Artist Of The Week - Anchor & Braille
It's been about three years since we've gotten an album from Anchor & Braille, the indie side project of Anberlin's Stephen Christian, but this week, on July 31st, the band's sophomore album will be released.
The Quiet Life
is a collection of haunting melodies and catchy percussion, certainly a maturation of sound since 2009's
Felt
.
The Quiet Life
is available now in stores and online through Tooth & Nail Records.

Admin

Christian Rock Rocks - Copyright 2012. Powered by
Blogger
.

Archive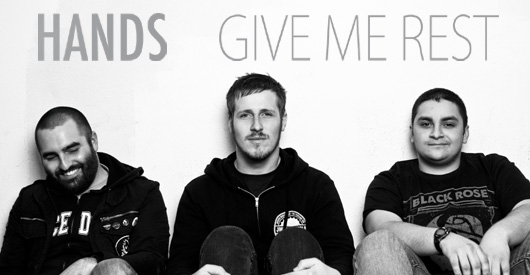 Hands is set to release their follow-up album to 2009's
Creator
this summer. The new album
Give Me Rest
promises to be a remarkable leap in song writing and profundity for the band. Vocalist and guitarist Shane Ochsner had some things to say about what it was like writing and recording this time around.
This is the first album we've done that has allowed some time for detail. I've used 5 different drum kits, 5 different guitar amps, 8 different guitars, and several different miscellaneous instruments to cater to each individual song. There is so much emotion, and weight to this album. It has been over 2 years since the writing sessions for "Creator", and so much has changed since then.
It wasn't until this last year that I have started to question everything that I believe. I woke up one day and realized that I had no idea who God truly was, why I believed in him, and if my "relationship" with him was as honest as I'd been preaching it was. It felt like everything around me was pushing me farther, and farther away from Christianity. I saw a YouTube video of a massive group of kids at Cornerstone surrounding a protester outside of the festival gates, and shouting prayers and arguments with this guy like it was last thing they would ever do on Earth. I was absolutley disgusted, and asked myself "Am I really a part of this?"
"Give Me Rest" is about my struggle with my faith, and my struggle to call myself a true believer. It's about starting over, and actually seeking God with all of your heart. Taking your roots and planting them at the foot of the cross. Understanding that His vision is so much bigger than anything our tiny little minds could ever understand.
About the Author
Popular Posts
Artist: Advent Album: Naked and Cold Release Date: 9/8/09 Label: Solid State Records In the world of heavy music, when you think of b...

Artist: Skillet Album: Awake Release Date: 8/25/09 Label : Lava/Ardent/Atlantic 3 years later after the release of their most successf...

Come&Live! just announced the September 14 th  scheduled release of Ascend The Hill 's newest free full length.  Hymns: Take The World...

Artist: Capital Lights Album: Rhythm 'N' Moves Release Date: July 19, 2012 Label: Tooth & Nail Records Rhythm 'N'...

Tobymac will release his new album titled "Tonight" on Febuary 9th, 2010. It will feature the current single "City On Our Kn...

Artist: Phil Wickham Album: Heaven & Earth Release Date: 11/17/09 Label: INO Records The acoustic version of Heaven & Earth is an e...

In July of 2009, I started Christian Rock Rocks as an outlet to review good Christian music, if that term even holds any true value anymor...

Artist: Overcome Album: The Great Campaign of Sabotage Release Date: 2/1/11 Label: Facedown Records Last year when Overcome announced...

Hey everyone!There is a great site called Noisetrade.com that you can get free music from many indie artists and some that are signed. Some ...

Labels