Artist Of The Week - Anchor & Braille
It's been about three years since we've gotten an album from Anchor & Braille, the indie side project of Anberlin's Stephen Christian, but this week, on July 31st, the band's sophomore album will be released.
The Quiet Life
is a collection of haunting melodies and catchy percussion, certainly a maturation of sound since 2009's
Felt
.
The Quiet Life
is available now in stores and online through Tooth & Nail Records.

Admin

Christian Rock Rocks - Copyright 2012. Powered by
Blogger
.

Archive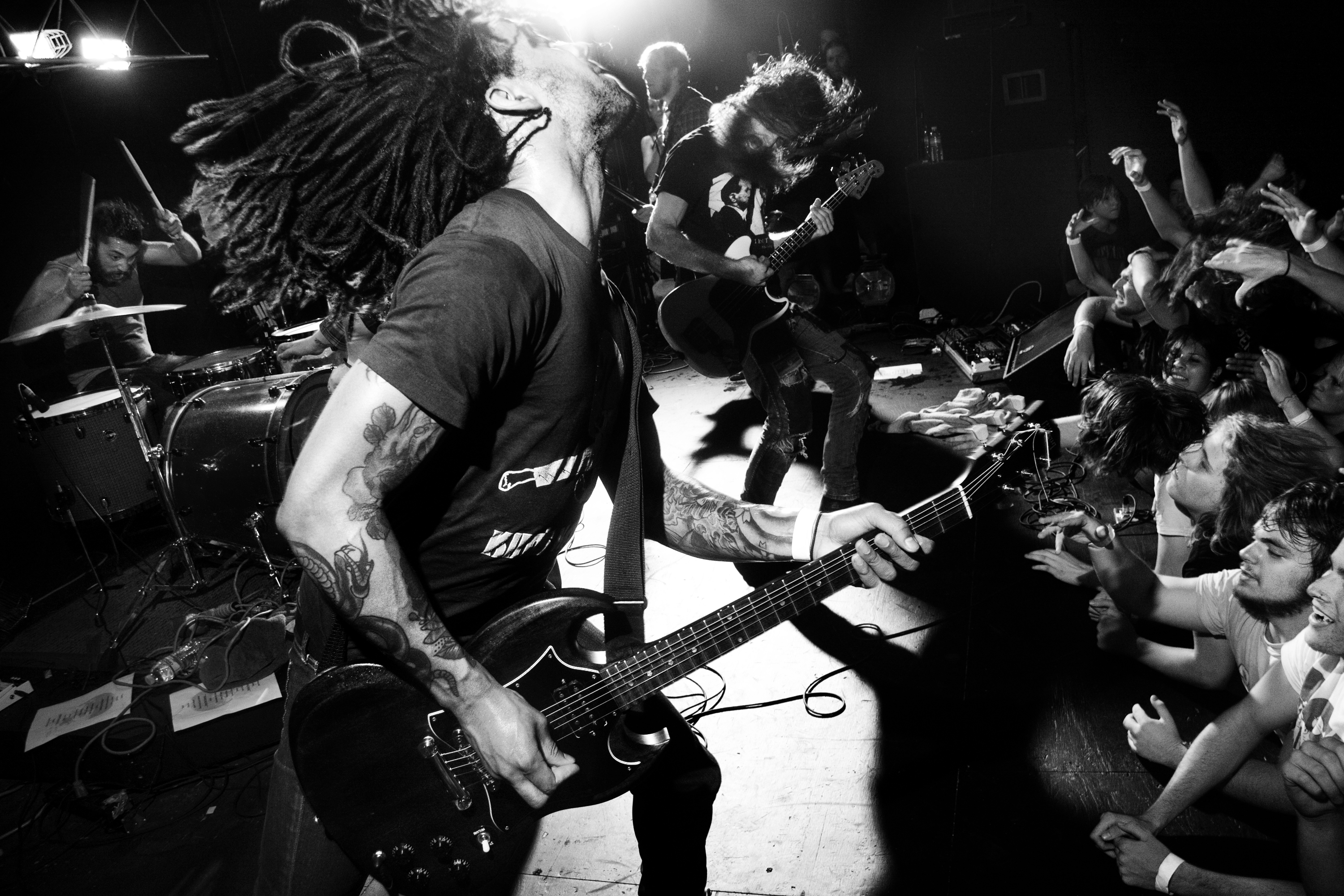 The Chariot at The Ridglea Theater 10/23/10
Fort Worth, TX
Let me preface this by saying that I was never a Chariot fanboy or even a fan, for that matter. That is, until I saw them live. I have seen them twice now and look very much forward to future shows. If you are not a fan of The Chariot, I ask you to give them a chance when they come to your town. I guarantee that you will see them in a new light.
I was blessed with the opportunity to see The Chariot for my second time at a huge festival (Rocktober Fest) at The Ridglea Theater in Fort Worth, Texas on October 23rd. In truth, I was going to see The Ghost Inside and Hundredth on their tour when I ended up getting lucky with what amounted to about three different tour packages converging onto the same venue for one night only. The Chariot were one of those "extras".
There was upwards of 20 bands on this specific bill. Not to be lost in the shuffle was
The Chariot
. Often times with large shows like this bands can sometime blend together. You will never find The Chariot to be one of those bands. From the instant they hit the stage, there was a buzz about the crowd and it wasn't just the huge amount of feedback emanating from The Chariot's amps. They played a mix of songs and for a solid 30-40 minutes, and I do mean solid.
When their set started, the energy was high and unrelenting. Within the first 10 minutes alone, Josh Scogin (vocals) had climbed a huge stack of PA speakers, Jon, their bassist, leaped into the crowd (with his bass), as did Josh. They switched that duty for a time. I cannot express how when seeing The Chariot, you are not just simply watching a musical act, but you are participating in an all around entertaining show. Guitarists Stephen and Jon are less active than Josh, Jon, and David (drums), but in no way are they taking it "easy". Stephen whips his dreads around as he plays and sings backup, while Jon keeps his back to the crowd and stays close to his amp, in what I assume is an attempt to build feedback. I'm not sure that Josh, bassist Jon, or drummer David ever stop moving. At some points of the set, Josh would even take David's tom and beat it on himself. I love this stuff. It's beautiful chaos.
To end the show, David played drums over a recorded track while slowly, members of the band carried bits and pieces of his drum set away until only he was left. I thought it was such a unique (and fitting) way to finish their set. Even their "tear down" is part of the set.
In closing, I just want to implore anyone that has not seen The Chariot live to use every opportunity to do so. I hope this review gives even a small glimpse into how exciting a Chariot show can be. It's hard to capture their performance with words. It really is indescribable. Thanks, Chariot, for another amazing show. You always make me feel like I got the most out of my ticket and I'll always be at the closest show, God willing.
Written by Gary Mark Peterson
About the Author
Popular Posts
Artist: Advent Album: Naked and Cold Release Date: 9/8/09 Label: Solid State Records In the world of heavy music, when you think of b...

Come&Live! just announced the September 14 th  scheduled release of Ascend The Hill 's newest free full length.  Hymns: Take The World...

In July of 2009, I started Christian Rock Rocks as an outlet to review good Christian music, if that term even holds any true value anymor...

Artist: Capital Lights Album: Rhythm 'N' Moves Release Date: July 19, 2012 Label: Tooth & Nail Records Rhythm 'N'...

Tobymac will release his new album titled "Tonight" on Febuary 9th, 2010. It will feature the current single "City On Our Kn...

Artist: Skillet Album: Awake Release Date: 8/25/09 Label : Lava/Ardent/Atlantic 3 years later after the release of their most successf...

Artist: Phil Wickham Album: Heaven & Earth Release Date: 11/17/09 Label: INO Records The acoustic version of Heaven & Earth is an e...

Hey everyone!There is a great site called Noisetrade.com that you can get free music from many indie artists and some that are signed. Some ...

Labels