Artist Of The Week - Anchor & Braille
It's been about three years since we've gotten an album from Anchor & Braille, the indie side project of Anberlin's Stephen Christian, but this week, on July 31st, the band's sophomore album will be released.
The Quiet Life
is a collection of haunting melodies and catchy percussion, certainly a maturation of sound since 2009's
Felt
.
The Quiet Life
is available now in stores and online through Tooth & Nail Records.

Admin

Christian Rock Rocks - Copyright 2012. Powered by
Blogger
.

Archive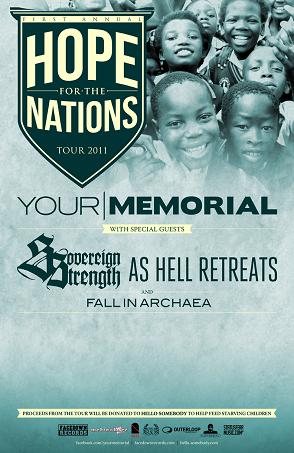 Your Memorial will be heading out with Sovereign Strength, Fall In Archaea, and As Hell Retreats this November for a tour that will span the US.

Your Memorial will be touring in support of their 2010 release "Atonement." Partial proceeds of the Hope for the Nations tour dates will benefit Hello Somebody to help feed starving children.
Hope for the Nations tour
w/ Sovereign Strength (Mediaskare), As Hell Retreats (ANGR),
Fall In Archaea (Mediaskare)
Nov 11 - Johnstown, NY @ Anthony's Pizza
Nov 12 - Buffalo, NY @ Broadway Joe's
Nov 13 - Dayton, OH @ The Attic
Nov 14 - Louisville, KY @ Sanctuary Music Venue
Nov 15 - St. Louis, MO @ TBA
Nov 16 - Salinas, KS @ Indian Rock
Nov 17 - Denver, CO @ The Marquis
Nov 18 - Ogden, UT @ Mojo's Gallery
Nov 19 - St. George, UT @ TBA
Nov 20 - Canoga Park, CA @ The Cobalt Cafe, Turkey Fest
Nov 21 - Bakersfield, CA @ The Dome
Nov 22 - Fullerton, CA @ TBA
Nov 23 - Mesa, AZ @ The Underground
Nov 25 - Albuquerque, NM @ El Rey Theater
Nov 26 - Lubbock, TX @ TBA
Nov 27 - San Antonio, TX @ The White Rabbit
Nov 28 - Houston, TX @ Caines Ashes
Nov 29 - Metairie, LA @ The Cypress
Nov 30 - Jackson, MS @ The Safehouse
Dec 2 - West Palm Beach, FL @ The Speakeasy
Dec 3 - Tampa, FL @ Transitions Art Gallery
Dec 4 - Jacksonville, FL @ Murray Hill Theater
Dec 5 - Columbus, GA @ TBA
Dec 6 - Douglasville, GA @ The 7 Venue
w/ Fall In Archaea, Mercy Screams (Red Cord)
Dec 7 - Charleston, SC @ TBA
Dec 8 - Wilimington/Jacksonville, NC @ TBA
Dec 9 - Fredericksburg, VA @ The Refuge
Dec 10 - Lynchburg, VA @ Crosspoint Venue
Dec 11 - Toledo, OH @ Frankie's Inner City
About the Author
Popular Posts
Artist: Advent Album: Naked and Cold Release Date: 9/8/09 Label: Solid State Records In the world of heavy music, when you think of b...

Come&Live! just announced the September 14 th  scheduled release of Ascend The Hill 's newest free full length.  Hymns: Take The World...

In July of 2009, I started Christian Rock Rocks as an outlet to review good Christian music, if that term even holds any true value anymor...

Artist: Capital Lights Album: Rhythm 'N' Moves Release Date: July 19, 2012 Label: Tooth & Nail Records Rhythm 'N'...

Tobymac will release his new album titled "Tonight" on Febuary 9th, 2010. It will feature the current single "City On Our Kn...

Artist: Skillet Album: Awake Release Date: 8/25/09 Label : Lava/Ardent/Atlantic 3 years later after the release of their most successf...

Artist: Phil Wickham Album: Heaven & Earth Release Date: 11/17/09 Label: INO Records The acoustic version of Heaven & Earth is an e...

Hey everyone!There is a great site called Noisetrade.com that you can get free music from many indie artists and some that are signed. Some ...

Labels