Artist Of The Week - Anchor & Braille
It's been about three years since we've gotten an album from Anchor & Braille, the indie side project of Anberlin's Stephen Christian, but this week, on July 31st, the band's sophomore album will be released.
The Quiet Life
is a collection of haunting melodies and catchy percussion, certainly a maturation of sound since 2009's
Felt
.
The Quiet Life
is available now in stores and online through Tooth & Nail Records.

Admin

Christian Rock Rocks - Copyright 2012. Powered by
Blogger
.

Archive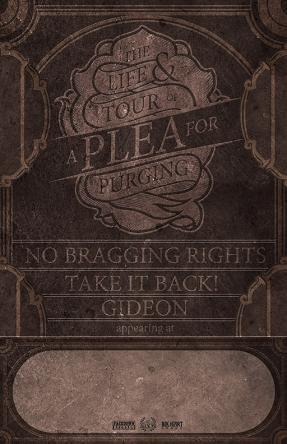 A Plea For Purging have announced their first headlining tour of 2011 "The Life and Tour of A Plea For Purging." They will be touring in support of their new album
The Life and Death of A Plea For Purging
which will be released November 8. You can pre-order the new album now.
http://facedown.merchnow.com/
Oct 29 - Nashville, TN @ Rocketown
Oct 30 - Chattanooga, TN @ The Warehouse
Oct 31 - Memphis, TN @ Escape Alley
Nov 1 - Raleigh, NC @ Tremont Music Hall
Nov 2 - Virginia Beach, VA @ Club Relevant
Nov 3 - Annapolis, MD @ Knights of Columbus
Nov 4 - Lemoyne, PA @ The Championship
Nov 5 - Dayton, OH @ The Attic
Nov 6 - Louisville, KY @ Encounter Church
Nov 7 - Evansville, IN @ The Hatch
Nov 8 - Goshen, IN @ Goshen Theater
Nov 9 - St Paul, MN @ Station 4
Nov 10 - Sioux City, IA @ The Underground
Nov 11 - Wichita, KS @ TBA
Nov 12 - Little Rock, AR @ Downtown Music Hall
Nov 13 - Tulsa, OK @ Marquee
Nov 14 - San Antonio, TX @ White Rabbit
Nov 15 - Waco, TX @ Art Ambush
Nov 16 - Fort Worth, TX @ Tomcats
Nov 17 - Mobile, AL @ The Indie Spot
Nov 18 - Savannah, GA @ City Church
Nov 19 - Douglasville, GA @ The 7 Venue
Nov 20 - Jacksonville, FL @ Murray Hill Theatre
About the Author
Popular Posts
Artist: Advent Album: Naked and Cold Release Date: 9/8/09 Label: Solid State Records In the world of heavy music, when you think of b...

Come&Live! just announced the September 14 th  scheduled release of Ascend The Hill 's newest free full length.  Hymns: Take The World...

In July of 2009, I started Christian Rock Rocks as an outlet to review good Christian music, if that term even holds any true value anymor...

Artist: Capital Lights Album: Rhythm 'N' Moves Release Date: July 19, 2012 Label: Tooth & Nail Records Rhythm 'N'...

Tobymac will release his new album titled "Tonight" on Febuary 9th, 2010. It will feature the current single "City On Our Kn...

Artist: Skillet Album: Awake Release Date: 8/25/09 Label : Lava/Ardent/Atlantic 3 years later after the release of their most successf...

Artist: Phil Wickham Album: Heaven & Earth Release Date: 11/17/09 Label: INO Records The acoustic version of Heaven & Earth is an e...

Hey everyone!There is a great site called Noisetrade.com that you can get free music from many indie artists and some that are signed. Some ...

Labels