Artist Of The Week - Anchor & Braille
It's been about three years since we've gotten an album from Anchor & Braille, the indie side project of Anberlin's Stephen Christian, but this week, on July 31st, the band's sophomore album will be released.
The Quiet Life
is a collection of haunting melodies and catchy percussion, certainly a maturation of sound since 2009's
Felt
.
The Quiet Life
is available now in stores and online through Tooth & Nail Records.

Admin

Christian Rock Rocks - Copyright 2012. Powered by
Blogger
.

Archive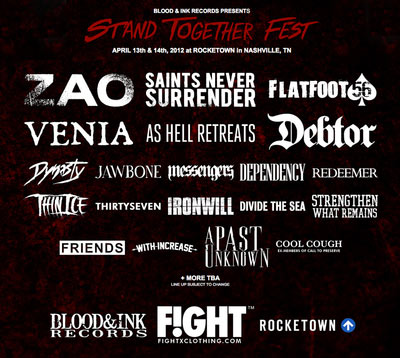 Details about the first annual STAND TOGETHER FEST have been announced! The event, which is presented by Blood & Ink Records and F!GHT Clothing, will be held April 13th and 14th, 2012 at Rocketown in Nashville, Tennessee. Scheduled to perform are Zao, Saints Never Surrender (reunion), Flatfoot 56, Venia, As Hell Retreats, Debtor, and more (full line-up below).
STAND TOGETHER FEST was launched with the hopes of bringing fans of Spirit-filled hardcore and metal together for one awesome, weekend-long event... without needing to break the bank in order to attend. Featuring bands from a number of notable labels, including Ferret Music, Paper + Plastick, Ain't No Grave Records, Facedown Records, Mediaskare Records, Red Cord Records, and of course Blood & Ink Records, the line-up offers a diverse glimpse into this scene's best current offerings.
Tickets for STAND TOGETHER FEST are $45 for a two day pass and can be purchased online via the festival website at:
www.standtogetherfest.com
FULL LINE-UP:
ZAO
SAINTS NEVER SURRENDER (reunion featuring all original members)
FLATFOOT 56
VENIA
AS HELL RETREATS
DEBTOR
DYNASTY
JAWBONE
MESSENGERS
DEPENDENCY
REDEEMER
THIN ICE
THIRTYSEVEN
IRONWILL
DIVIDE THE SEA
STRENGTHEN WHAT REMAINS
FRIENDS
WITH INCREASE
A PAST UNKNOWN
COOL COUGH (ex-members of Call To Preserve)
+ MORE TBA
About the Author
Popular Posts
Artist: Advent Album: Naked and Cold Release Date: 9/8/09 Label: Solid State Records In the world of heavy music, when you think of b...

Artist: Skillet Album: Awake Release Date: 8/25/09 Label : Lava/Ardent/Atlantic 3 years later after the release of their most successf...

Come&Live! just announced the September 14 th  scheduled release of Ascend The Hill 's newest free full length.  Hymns: Take The World...

Artist: Capital Lights Album: Rhythm 'N' Moves Release Date: July 19, 2012 Label: Tooth & Nail Records Rhythm 'N'...

Tobymac will release his new album titled "Tonight" on Febuary 9th, 2010. It will feature the current single "City On Our Kn...

Artist: Phil Wickham Album: Heaven & Earth Release Date: 11/17/09 Label: INO Records The acoustic version of Heaven & Earth is an e...

In July of 2009, I started Christian Rock Rocks as an outlet to review good Christian music, if that term even holds any true value anymor...

Artist: Overcome Album: The Great Campaign of Sabotage Release Date: 2/1/11 Label: Facedown Records Last year when Overcome announced...

Hey everyone!There is a great site called Noisetrade.com that you can get free music from many indie artists and some that are signed. Some ...

Labels