Artist Of The Week - Anchor & Braille
It's been about three years since we've gotten an album from Anchor & Braille, the indie side project of Anberlin's Stephen Christian, but this week, on July 31st, the band's sophomore album will be released.
The Quiet Life
is a collection of haunting melodies and catchy percussion, certainly a maturation of sound since 2009's
Felt
.
The Quiet Life
is available now in stores and online through Tooth & Nail Records.

Admin

Christian Rock Rocks - Copyright 2012. Powered by
Blogger
.

Archive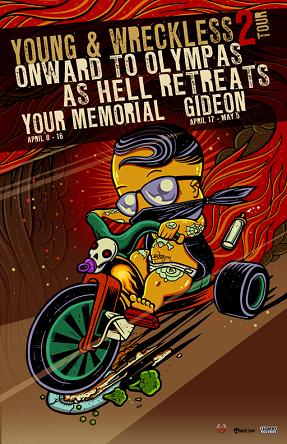 Facedown is launching the second Young and Wreckless tour this spring featuring Onward to Olympas, Your Memorial, and As Hell Retreats. They will be joining up with the newest addition to Facedown, Gideon. Tour dates below.
Fri April 8 - Facedown Fest
Sat April 9 - Facedown Fest
Mon April 11 - Las Vegas, NV @ The Sanctuary
Tue April 12 - Orangevale, CA @ The Boardwalk
Wed April 13 - Provo, UT @ TBA
Thur April 14 - Arvada, CO @ The Shelter
Fri April 15 - Sioux City, IA @ Morningside Lutheran
Sat April 16 - Willmar, MN @ First Street Warehouse
w/GIDEON (no YM)
Sun April 17 - Springfield, IL @ Blacksheep Cafe
Mon April 18 - Tulsa, OK @ The Marquee
Tue April 19 - Terre Haute, IN @ THMV The Venue
Wed April 20 - Nashville, TN @ Rocketown
Thur April 21 - Little Rock, AR @ Downtown Music Hall
Fri April 22 - Waco, TX @ TBA
Sat April 23 - Plano, TX @ Eisenbergs Skatepark
Sun April 24 - San Antonio, TX @ White Rabbit
Tue April 26 - Defuniak Springs, FL @ Woodlawn Community Center
Wed April 27 - Fayetteville, GA @ 11th Hour Venue
Thur April 28 - Macon, GA @ The 567
Wed May 4 - Crofton, MD @ Macc w/Becoming The Archetypte
Thur May 5 - Lemoyne, PA @ Championship
About the Author
Popular Posts
Artist: Capital Lights Album: Rhythm 'N' Moves Release Date: July 19, 2012 Label: Tooth & Nail Records Rhythm 'N'...

In July of 2009, I started Christian Rock Rocks as an outlet to review good Christian music, if that term even holds any true value anymor...

Artist: Advent Album: Naked and Cold Release Date: 9/8/09 Label: Solid State Records In the world of heavy music, when you think of b...

Artist: Phil Wickham Album: Heaven & Earth Release Date: 11/17/09 Label: INO Records The acoustic version of Heaven & Earth is an e...

Tobymac will release his new album titled "Tonight" on Febuary 9th, 2010. It will feature the current single "City On Our Kn...

Artist: Venia Album: I've Lost All Faith In Myself Release Date: 11/30/10 Label: Blood & Ink Records Pure hardcore is becomin...

Hey everyone!There is a great site called Noisetrade.com that you can get free music from many indie artists and some that are signed. Some ...

Artist: A White Flag Album: The Exchange EP Release Date: August 24, 2011 Label: Come&Live! What happens when one of the hardcore...

Labels