Artist Of The Week - Anchor & Braille
It's been about three years since we've gotten an album from Anchor & Braille, the indie side project of Anberlin's Stephen Christian, but this week, on July 31st, the band's sophomore album will be released.
The Quiet Life
is a collection of haunting melodies and catchy percussion, certainly a maturation of sound since 2009's
Felt
.
The Quiet Life
is available now in stores and online through Tooth & Nail Records.

Admin

Christian Rock Rocks - Copyright 2012. Powered by
Blogger
.

Archive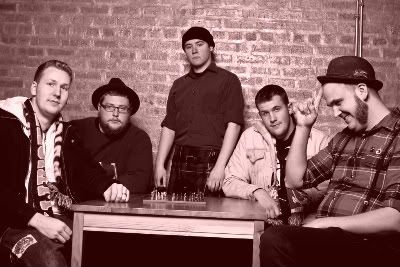 Christian Rock Rocks had the opportunity to catch up with Celtic punk rockers Flatfoot 56 on this summer's Vans Warped Tour. We got to talk with the whole band about touring, music and their new album.
Christian Rock Rocks (Brooks Ginnan): Hey guys, how has Warped Tour been going so far?
Flatfoot 56: We actually just started playing on it today! It went great, we had a fairly large crowd and had lots of fun.
CRR: You just released a new album on a new label at the end of March. How did that go?
F56: Our old label, Flicker, just kinda disbanded about two years ago and in January or so, we signed to Old Shoe Records. We didn't know how that would go but just wanted to get our new record out and see how it went.
Black Thorn
has been doing well so far which is great.
CRR: What are some of the lyrics about on Black Thorn?
F56: Well, they are about fighting through some of the hard times and some of these people who go through on going struggles everyday for family and whatnot. Songs like "Courage" and "We Grow Stronger" are good examples of what the new album is about.
CRR: So I know that your former label, Flicker, was a Christian label and the new one is not. Do you still think that your music can be picked up by believers and non-believers alike and expect them to get something out of Black Thorn?
F56: Yeah, our music applies to Christians as much as it does to those who are not. Our faith has been one of the biggest parts of the band and will always stay that way.
CRR: Do you have any plans to go on tour after Warped?
F56: Yep! We will be on tour this fall for sure!
About the Author
Popular Posts
Artist: Advent Album: Naked and Cold Release Date: 9/8/09 Label: Solid State Records In the world of heavy music, when you think of b...

Artist: Skillet Album: Awake Release Date: 8/25/09 Label : Lava/Ardent/Atlantic 3 years later after the release of their most successf...

Come&Live! just announced the September 14 th  scheduled release of Ascend The Hill 's newest free full length.  Hymns: Take The World...

Artist: Capital Lights Album: Rhythm 'N' Moves Release Date: July 19, 2012 Label: Tooth & Nail Records Rhythm 'N'...

Tobymac will release his new album titled "Tonight" on Febuary 9th, 2010. It will feature the current single "City On Our Kn...

Artist: Phil Wickham Album: Heaven & Earth Release Date: 11/17/09 Label: INO Records The acoustic version of Heaven & Earth is an e...

In July of 2009, I started Christian Rock Rocks as an outlet to review good Christian music, if that term even holds any true value anymor...

Artist: Overcome Album: The Great Campaign of Sabotage Release Date: 2/1/11 Label: Facedown Records Last year when Overcome announced...

Hey everyone!There is a great site called Noisetrade.com that you can get free music from many indie artists and some that are signed. Some ...

Labels