Artist Of The Week - Anchor & Braille
It's been about three years since we've gotten an album from Anchor & Braille, the indie side project of Anberlin's Stephen Christian, but this week, on July 31st, the band's sophomore album will be released.
The Quiet Life
is a collection of haunting melodies and catchy percussion, certainly a maturation of sound since 2009's
Felt
.
The Quiet Life
is available now in stores and online through Tooth & Nail Records.

Admin

Christian Rock Rocks - Copyright 2012. Powered by
Blogger
.

Archive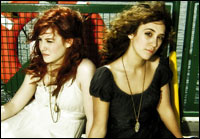 Artist:

Poema

Album: Demo EP

Release Date: 2009

Label: Independent

Sometimes something so simple can be so great. Take Poema for example, playing some relaxing acoustic pop. Poema is made up of sisters Elle and Shealeen Puckett, from Albuquerque, New Mexico. Aside from their beautiful vocal abilities, Elle plays acoustic guitar and Shealeen plays the piano. The lyrical style on the EP is composed of some well written love songs, very original and unique.




Starting off with the slower love song "Blue Sweater", you can tell that you are in for something special. Another personal favorite I have is titled "All It Takes", which is a much more slowed down song. With a beautiful chorus of "All it takes is a smile on your face and I start thinking you captured my heart", Poema's unique song writing really shines through. Please check out Poema! They will be releasing their new album titled Sing It Now on March 23rd.
About the Author
Popular Posts
Artist: Advent Album: Naked and Cold Release Date: 9/8/09 Label: Solid State Records In the world of heavy music, when you think of b...

Artist: Skillet Album: Awake Release Date: 8/25/09 Label : Lava/Ardent/Atlantic 3 years later after the release of their most successf...

Come&Live! just announced the September 14 th  scheduled release of Ascend The Hill 's newest free full length.  Hymns: Take The World...

Artist: Overcome Album: The Great Campaign of Sabotage Release Date: 2/1/11 Label: Facedown Records Last year when Overcome announced...

Tobymac will release his new album titled "Tonight" on Febuary 9th, 2010. It will feature the current single "City On Our Kn...

The new Mychildren Mybride music video for "God of Nothing" can currently be viewed right here . The song is off the band's...

Artist: Capital Lights Album: Rhythm 'N' Moves Release Date: July 19, 2012 Label: Tooth & Nail Records Rhythm 'N'...

TOOTH & NAIL RECORDS ANNOUNCES THE SELF-TITLED DEBUT ALBUM FROM NEW DUO MATT & TOBY SPECIAL LIVING ROOM SESSIONS ANNOUNCED S...

Labels